Using Pre-Engineered Metal Buildings in Commercial Construction Projects
February 24, 2020
Pre-Engineered Metal Buildings
Due to the many advantages of pre-engineered metal buildings, these steel structures prove to be the most energy and cost-efficient building systems for many commercial construction projects. The customizable frameworks are known for their architectural versatility, structural integrity, and their ability to reduce construction timelines.
What Are Pre-Engineered Metal Buildings?
Pre-engineered metal buildings (PEMB) are structures manufactured according to a client's specific project requirements. The rigid steel framing system includes roofing, steel plate walls, beams, and support columns that are all pre-cut to fit your building specifications. Once all the components have been fabricated the system is delivered to the project site for assembly by our skilled commercial construction team.
1. Pre-Engineered Winery Production Facilities
Steel is recyclable, making PEMBs environmentally-sustainable building options. In addition to being eco-friendly, they are also incredibly customizable. The versatility of these building structures makes them an ideal option for winemakers.
Featured Project: B Cellars Winery & Wine Cave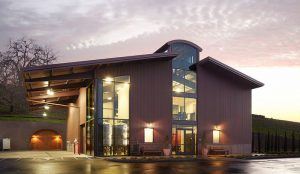 Our team at FDC was honored to partner with B Cellars to construct a new 24,000 square foot wine facility in Oakville, CA. The project included erecting a culinary center, tasting room, hospitality house, a 13,000 square foot wine cave, and a state-of-the-art wine production plant. One of the custom-engineered buildings even included the addition of a glass elevator. B Cellars produces, on average, 10,000 cases of wine out of this new facility annually and is one of Napa Valley's most popular wine attractions.
2. Use a Pre-Engineered Metal Building For You Commercial Storage Facility
Pre-engineered buildings are notoriously durable. The structures are weatherproof and naturally pest-resistant, making them ideal for constructing commercial storage facilities.
Featured Project: National Storage Facility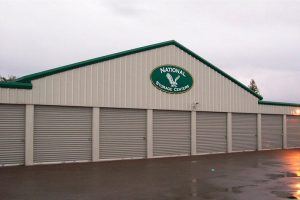 FDC was responsible for the entitling and construction of this state-of-the-art storage facility utilizing a PEMB. It is Sonoma County's first climate-controlled storage center and features a variety of unit sizes and dimensions. The storage complex was constructed to feature ample lighting, 24-hour video surveillance, and each unit is affixed with individual alarms and fire sprinkler systems. The facility blends naturally into a rural setting due to the strategic use of earth-toned stucco perimeter walls and green metal roofing.
3. Pre-Engineered Metal Buildings for Retail Shopping Centers
The assembly of a PEMB is streamlined due to its custom fabrication. This reduced construction time makes their use in large scale developments optimal.
Featured Project: The Barlow
Our general contractor team at FDC led the way in the construction of the community campus known as The Barlow, located in the heart of downtown Sebastopol. The 250,000 square foot development features seventeen modern pre-engineered commercial buildings. Each 500-16,000 square foot suite features glass roll up storefront doors and up to 30 ft. ceilings. Each building was designed to house a variety of occupants, ranging from craft breweries and artisanal eateries to retail shops and art galleries. The project, which spans over 4-city blocks, only took a total of 2 years to complete due largely to the efficient building solutions pre-engineered metal buildings offer. This 12.5-acre landscape is a "makers-market" that offers the community a place to celebrate local art, craft beer, wine, food, and Sonoma County culture.
Choose Pre-Engineered Metal Buildings for Your Commercial Construction Project
Since 1972 FDC has built over 5 million square feet of pre-engineered metal buildings in commercial construction projects across Santa Rosa and Napa. We pride ourselves on providing all our Northern California clients with the highest standard quality of work, in the most cost-efficient ways. If you are interested in partnering with our team at FDC for a commercial construction project contact us online today.