Benefits of a Pre-Engineered Metal Building in Storage Facility Construction 
June 10, 2023
Commercial Construction, Pre-Engineered Metal Buildings, Self-Storage
Using pre-engineered metal buildings (PEMBs) in commercial construction projects is a very popular building method that has been adopted for a wide range of uses across numerous industries. Due to their incredible versatility, reduced construction time, and weather-resistant properties, PEMBs are especially well-suited for storage facilities. In this article, we'll look at some of the key benefits of using a pre-engineered metal building in storage facility construction.
Pre-Engineered Metal Buildings in Storage Facility Construction Projects
PEMBs are manufactured off-site according to a client's specific project requirements. Every component of the steel framing system is pre-cut, pre-punched, and prefabricated so it is ready for immediate assembly upon delivery to the commercial construction site. This ensures that every pre-engineered metal building is manufactured under the highest quality control, while also incurring several other benefits especially in storage facility construction projects.
Design Versatility
With pre-engineered metal buildings, the modular design provides ample versatility for endless customizable design options. PEMBs can be designed with a variety of precise configurations to suit various needs within the same storage facility. Storage facilities, especially those that may include boat, RV, or vehicle storage often require wide open floor plans with a variety of custom, convenient entrances for larger inventory. With PEMBs, you can also easily customize your storage facility exterior to mimic more traditional building materials such as wood elements or stone masonry. With modular floor plans, and versatile customization options inside and out, PEMBs are a perfect solution for any storage facility construction project.
Durability and Weather Resistance
Pre-engineered metal buildings help ensure the longevity and ease of maintenance of any storage facility due to their durability and resistance to weather, mold, and pests. The naturally resilient steel used to construct a pre-engineered metal building will never warp, rot, or attract pests like wood-eating insects. The galvanized steel framing system is also treated with a moisture-resistant coating, which makes it impervious to rust and corrosion. This coating is also applied to the wall panels and roofing, preserving their color and making them more resistant to weather, dirt, and other damage as well.
National Storage Facility Chose FDC and PEMBs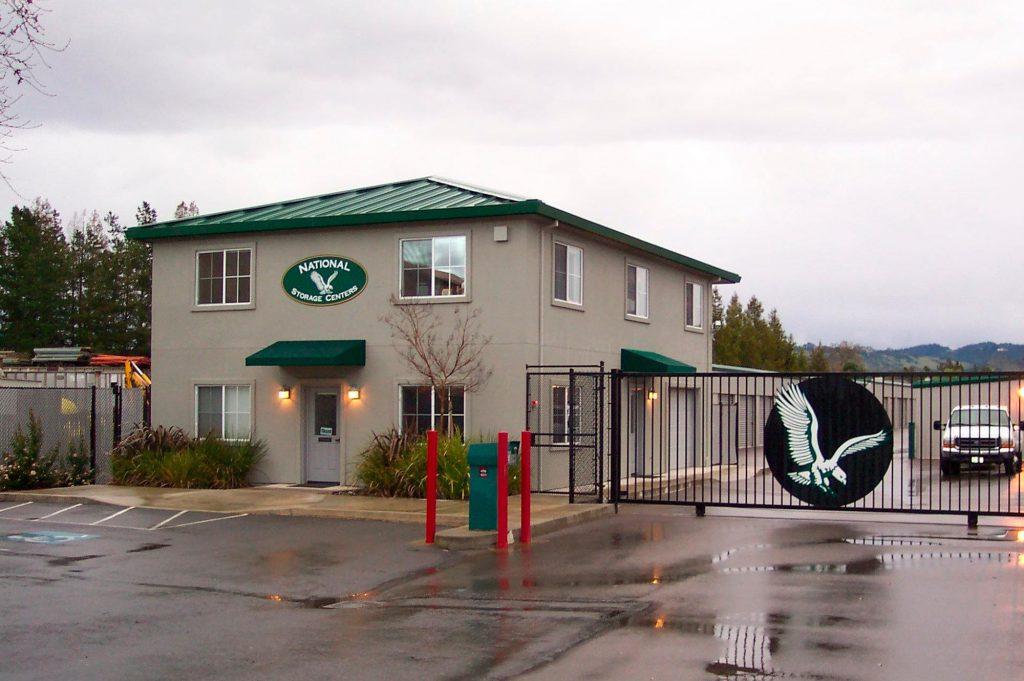 FDC is proud to be the trusted general contractor for National Storage Centers, and responsible for the market study, design, and construction of this state-of-the-art storage facility utilizing a pre-engineered metal building system. National Storage Centers is Sonoma County's first climate-controlled storage facility. The complex was designed to feature ample lighting, 24-hour video surveillance integration, and individual alarm and fire sprinkler systems in every unit.
Reduced Construction Time
With the components of the building pre-engineered off-site, storage facility construction time can be greatly reduced. While each component is being manufactured according to precise factory regulations, your general contractor can carry out all of the necessary steps to prepare the construction site. This may include demolition, laying the foundation, installing plumbing and other utilities, and more. Since these phases of the project can be completed simultaneously, the overall timeline of storage facility construction projects is reduced.
Reduced Construction Costs
With a reduced construction time, using a pre-engineered metal building for a storage facility construction project can also reduce the overall cost of the whole operation. Once the steel framing system has been manufactured and delivered to the construction site, PEMBs can be built faster and more efficiently, dramatically reducing on-site labor costs. With no need for cutting, punching, or welding, your construction team simply assembles and erects the building.
Your Trusted General Contractor for Storage Facility Construction Projects
Pre-engineered metal buildings have a lot to offer for storage facility construction projects. In addition to their versatile design options, durability, and reduced construction timelines and cost, PEMBs are also incredibly energy efficient and easy-to-maintain. Since 1972, FDC has been a leader in storage facility construction, and has erected millions of square feet of pre-engineered metal buildings. We are proud to be a trusted general contractor partnered with storage facility business owners across the western United States including California and Oregon.
If you would like any additional information on our storage facility construction services, or pre-engineered metal building methods, contact us online or call us at 707-523-1722.