3 Design Inspirations for Pre-Engineered Metal Buildings
May 25, 2021
Pre-Engineered Metal Buildings
Design Considerations for Custom Pre-Engineered Metal Buildings During a Commercial Construction Project
Due to their incredible versatility, and long term cost-efficiency, pre-engineered metal buildings (PEMB) have proven to be one of the most valuable building systems for commercial construction projects today.
For nearly 50 years, FDC has been providing Northern California with the highest standard of quality of work, in the most cost-efficient ways. In this time, our design-build team has erected over 5 million square feet of PEMBs featuring customized architectural design and features.
Read on to take a closer look at some of the amazing ways you can customize a pre-engineered metal building's design, and the benefits they can provide your commercial construction project.
1. Functional Design
PEMBs are custom-built to precise specifications, giving them the versatility to function as anything. With a skilled design team, a pre-engineered steel structure can be easily customized into a work of art. Utilizing custom architectural details allows form and function to work hand-in-hand, so your PEMB is as beautiful as it is useful.
Russian River Brewing's Windsor, CA Location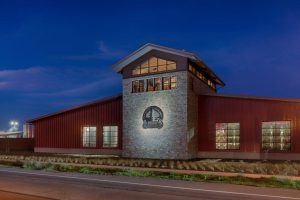 This Sonoma County brewery includes a custom-designed pre-engineered system to house the brewery's special barrel-aged beers. With its custom wood interior, clerestory windows, and stone-clad exterior finish, the entire design of the facility emphasizes its unique purpose and reflects the brewery's branding.
2. Architectural Versatility
Pre-engineered metal buildings can be designed to become a natural part of any environment. Industrial buildings, warehouses, and production facilities are no longer just large, boring square metal structures. PEMBs can look great and even compliment the local environment without obscuring the view. No matter where your commercial build project is located, a PEMB can be designed to look like it belongs, while still standing out as a beautiful structure.
The Venge Vineyards in Calistoga, CA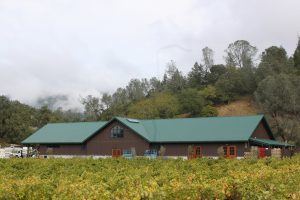 Venge Vinyard's connection to the fertile Napa Valley soil spans nearly a half-century. The FDC design team understood the importance of representing this experience through the construction of their new wine production facility.
Nestled into the foothills of a beautiful mountain range, their new facility was specifically designed to utilize the versatility of a pre-engineered metal building. This allowed our build team to seamlessly blend the new structure into the surrounding 12-acre estate vineyard.
3. Flexibility of Expansion with Pre-Engineered Metal Buildings
Expanding on an existing facility can be an exceptional undertaking, if not properly planned or managed. Our design-build team understands the importance of always working in anticipation of helping your business grow. At FDC, our goal is to help you construct an establishment with expansion in mind from the beginning. With pre-engineered metal buildings, building on to an existing facility, or adding additional structures is incredibly easy and keeps costs as low as possible.
The Barlow in Sebastopol, CA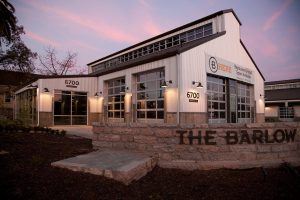 The Barlow shopping complex stretches over 12.5 acres in downtown Sebastopol, and comprises 17 pre-engineered steel structures. This campus houses an array of artisanal venues including retail establishments, tasting rooms, restaurants, galleries, and much more.
Each building was designed to adapt with the evolving community while simultaneously establishing the space as a harmonious market district. Utilizing pre-engineered metal buildings provided the versatility the Barlow required to serve such a diverse collection of industries.
Contact the Pre-Engineered Metal Building Design-Build Experts at FDC to Learn More
As a leader in per-engineered metal building design and construction, FDC understands the importance of maintaining the highest standard of quality, while meeting your timeline and budget.
We want to help bring your commercial construction project to life. Contact the Facility Development Company online or give us a call at (707) 523-1722 today.