5 Design Considerations for Commercial Kitchen Construction Projects  
January 30, 2023
Restaurant Design
Commercial kitchens are a frenetic work environment with multiple, potential hazards. Their design and construction are unlike any other type of commercial building. If you're embarking on a commercial kitchen construction project, it's important to have a complete understanding of the challenges inherent to their design. Here are five things to consider, before you begin.
Designing Based on the Menu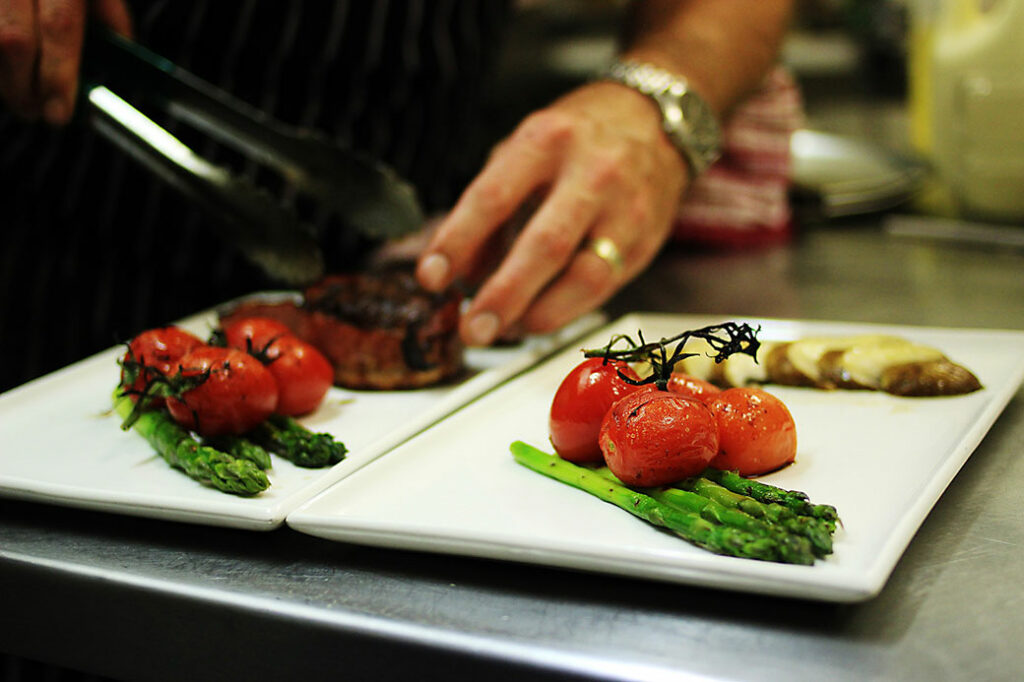 When it comes to designing a commercial kitchen, the anticipated menu will dictate a lot of the design decisions. However, that doesn't mean you have to know every dish that will be served, but rather the type of restaurant you are building. For instance, fast-food chains have very different workflows and equipment needs when compared to an upscale steakhouse or a casual buffet-style restaurant.
Equipment Needs
Your kitchen equipment will ensure that your team can carry out all the essential culinary aspects of your restaurant every day. This means your commercial kitchen design must accommodate all these crucial tools. The fast-food restaurant's menu may include fries and deep-fried zucchinis. A steakhouse may have no need for a deep fryer, but require multiple burners for the various sauces and soups made in-house.
Food Prep and Serving Workflows
Using the same examples, the steak house's kitchen staff who "plate" the dishes need plenty of work surface with various garnishes at their fingertips, and plenty of room for the two-way traffic of wait staff retrieving their orders. The restaurants that use the buffet-style dining model may require lots of room for the sous chefs to prep all the vegetables and meats, but won't have the same traffic requirements. Similarly, the fast-food restaurant may need a drive-up window and a pass-through for delivering orders to the staff working the front counter.
Food Storage and Refrigeration Requirements
When designing a commercial kitchen, you will also want to consider the amount of standard and cold storage your back-of-house team will need. Again, this is all dependent on the type of food you envision your restaurant serving. For instance, if your menu will reflect locally sourced, seasonal ingredients, your storage requirements will need to accommodate an ever-changing assortment of perishables. While at a fast-food chain, the food is typically prepared elsewhere and kept frozen for longer periods of time.
Understanding the Types of Commercial Kitchen Layouts
Kitchens designs begin with one of five standard layouts. Which layout you choose will depend on the type of restaurant and the available space.
Assembly line
An assembly line layout works well, if you have a long room without a lot of kitchen traffic. Meals can quickly be prepped, cooked, and plated or packaged, as they progress down the line. Dishwashing and storage are behind the line. Waitstaff flow in near the beginning of the line and exit on the other end with prepared meals. It also works well for catering kitchens, which have even less traffic and a tighter menu.
Open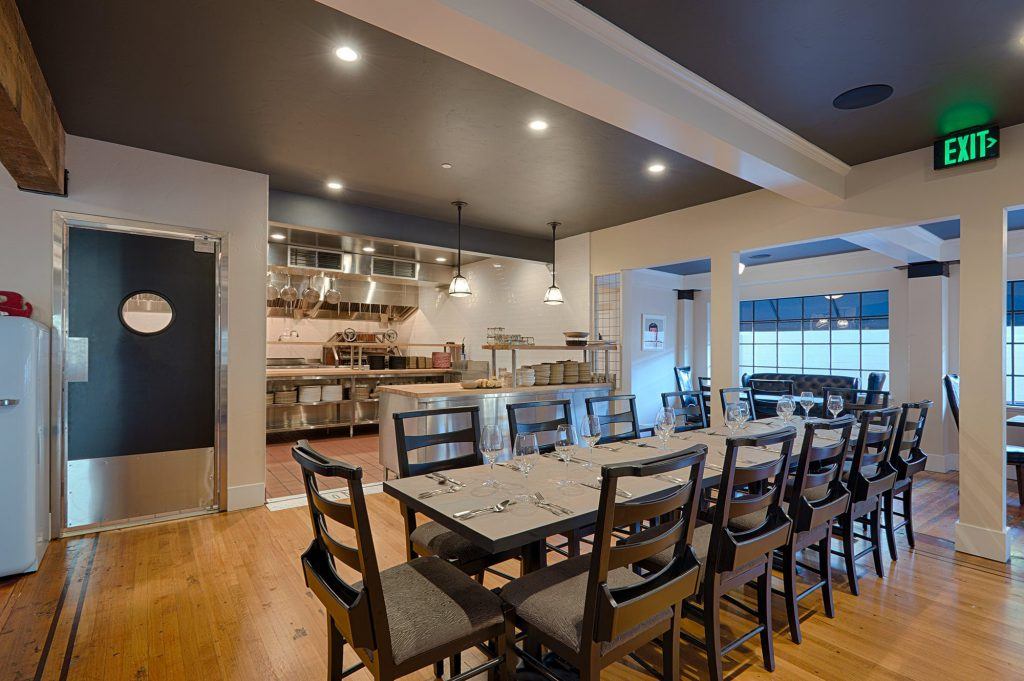 With an open layout, the kitchen is less separated from the dining area. Guests can watch as pizza dough twirls in the air, their stir-fry is tossed onto a circular grill, or crepes are made to order. Typically, with an open commercial kitchen floor plan, only the dishwashing station and the cold storage are out of sight.
Island
In an island kitchen layout, all the cooking is done in the center of the kitchen, with everything else around the perimeter. This is a typical short-order layout. You have surely seen cooks at work through a pass through in this type of layout.
Zones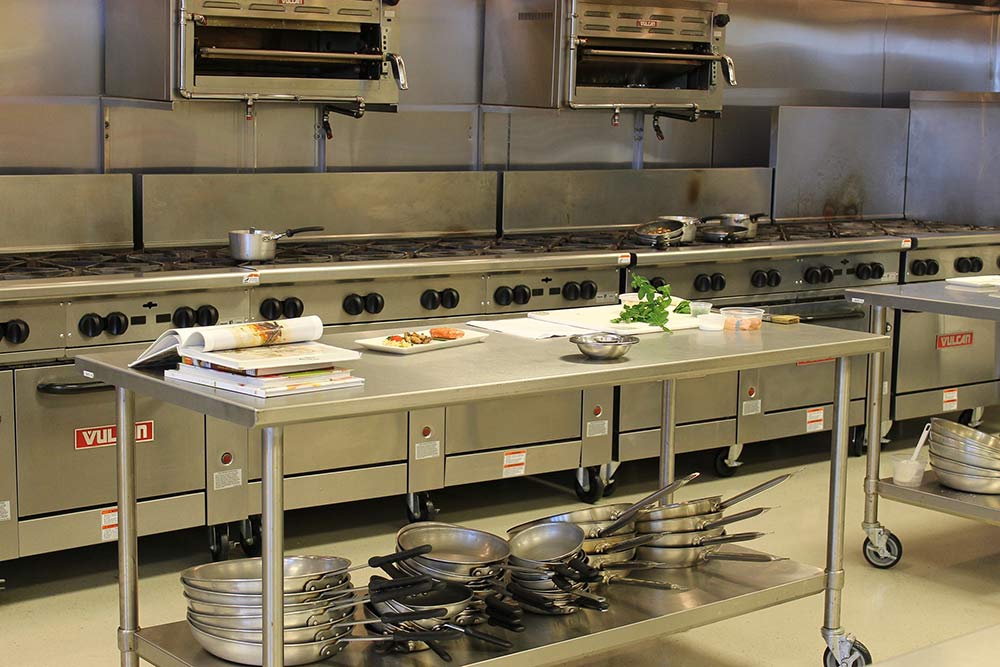 The zone kitchen layout, provides ample room for each stage of the food preparation process. Cooks have room to move about in the cooking area, and sous chefs have room to work and clearance to get to the food storage area as needed. In this scenario, all of the staff in these areas also have easy access to the service area. Meanwhile, the dishwashing station is typically situated near the entrance.
Galley
The galley kitchen layout, which gets its name from the galley aboard a ship, optimizes for limited space. All of the working and storage areas are along the back wall, typically with food prep and cooking in the middle, sandwiched between the dishwashing station and storage, with room for waitstaff traffic in front.
Choosing a Commercial Kitchen Layout
Equipment Requirements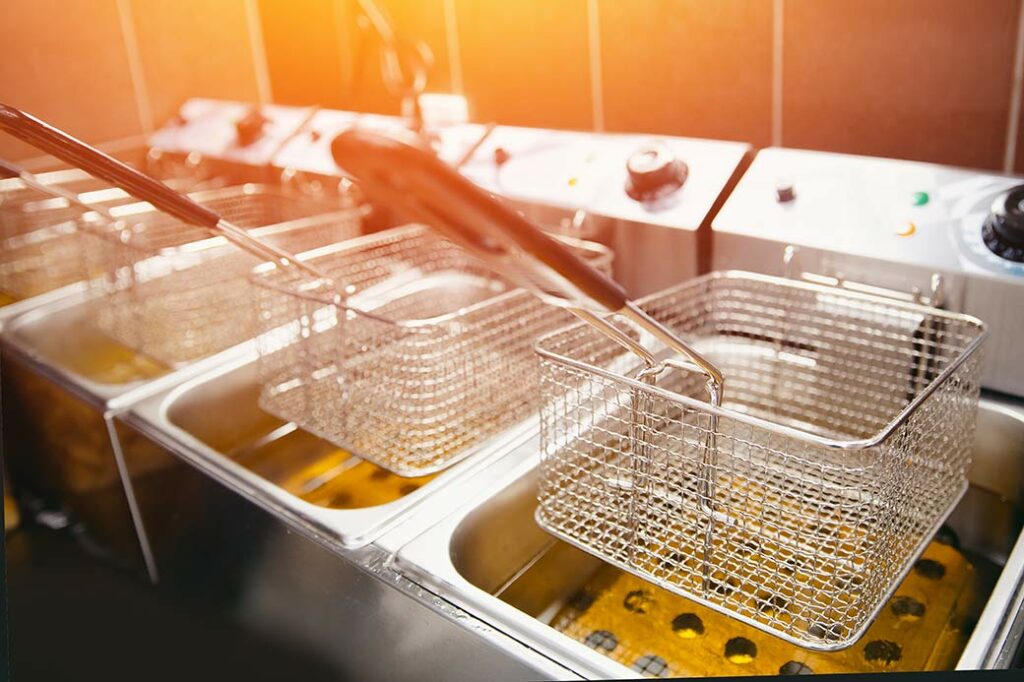 Getting back to the equipment required for the restaurant's menu, you will need to plot out how much room the equipment will occupy. From there, you will need to measure for clearance for opening oven doors, elbow room for the folks pulling fries out of deep fryers, ample space for safe egress per OSHA and fire safety guidelines, etc.
Workflows and Traffic Patterns
Skimping on space in a commercial kitchen can be disastrous. Think about the kitchen at its busiest time, with staff of all sizes moving about with precarious trays or hot dishes. It's best to err on the side of caution.
Food Storage Space Requirements
Some restaurants will have more perishables than others and some will go through dry goods faster than others. It's important that you have ample space for all the necessary ingredients for a restaurant's efficient operation.
Ergonomics and Efficiency
In addition to ample space, workstations also need to be installed at ergonomic heights to prevent work-related injuries. Keeping the staff in mind, you want to avoid a design that forces them to bend, twist or reach too much. In addition, consider the weight of items kitchen staff will be lifting and the angles from which they are accessing them when creating space for heavy foodstuffs or pans. In addition, it's best to ensure that storage spaces, especially if they will be frequently accessed, are not too high.
Choosing the Best Lighting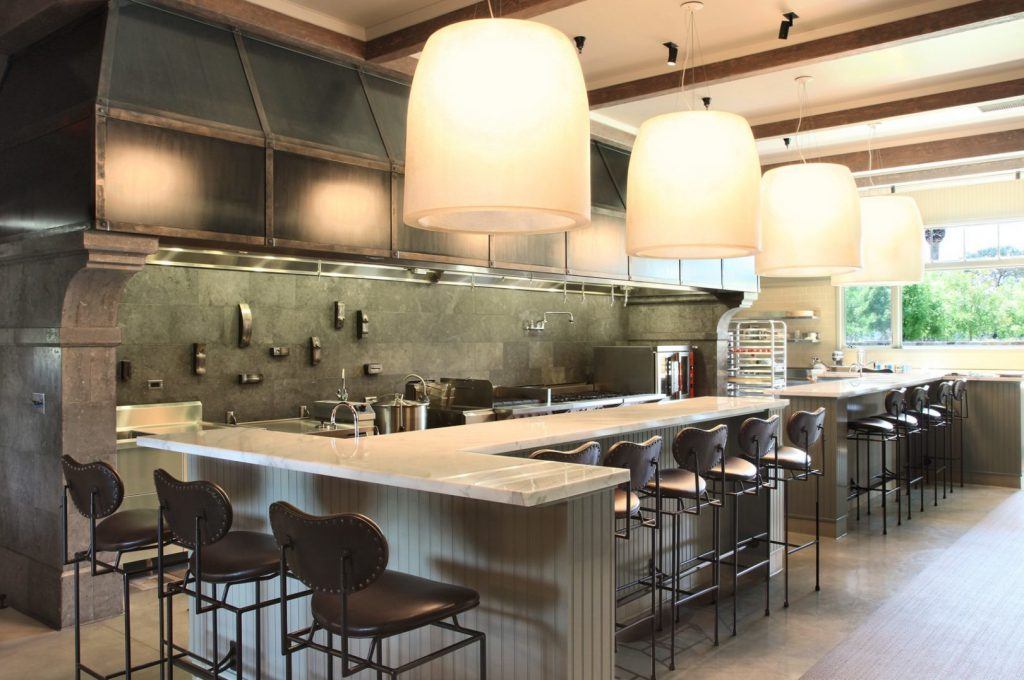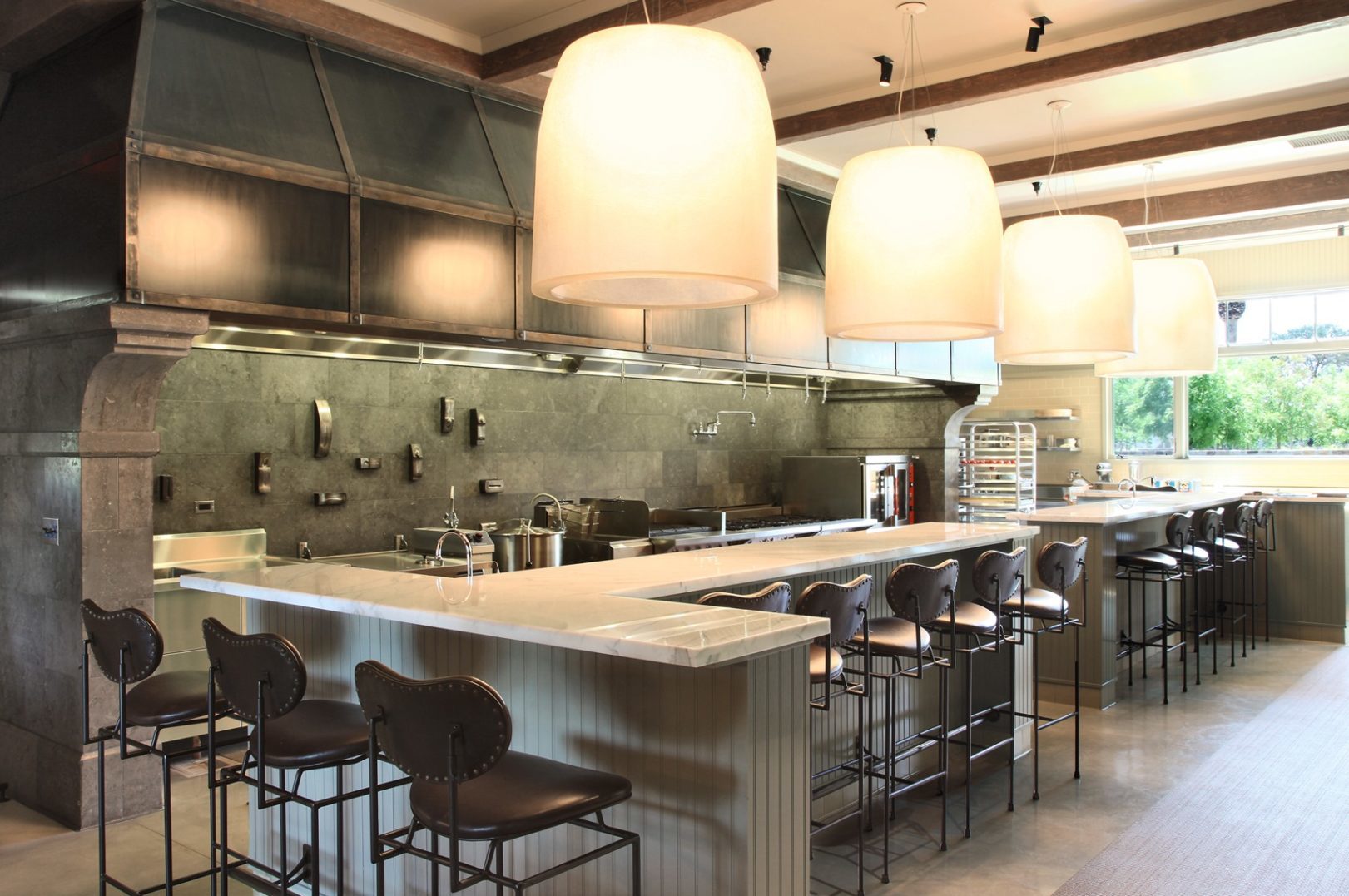 Lighting is critical in a busy kitchen to keep everyone safe. With an eye to energy efficiency, LED lights are a great way to save energy, while providing ample illumination. All work stations should have adequate lighting. Especially over food prep and cooking areas, consider lighting fixtures that are easily cleaned.
Identifying HVAC, Ventilation, and Fire Suppression Needs
Kitchens have unique requirements as the cooks are quite literally playing with fire. Research all of the federal, state, and local safety requirements for ventilation and fire suppression. With all of the heat generated within, you'll also need an HVAC system that is up to the task.
Trust Your Commercial Kitchen Construction Project to the Experts at FDC
Before hiring a general contractor for your restaurant construction project, consider a design-build, commercial kitchen contractor. That way, you can lean on their design experience with commercial kitchen layouts and the benefits and limitations of each. They'll also know more about restaurant construction safety requirements. The design-build team at FDC can help you design and build the perfect commercial kitchen. We take great pride in providing the highest degree of quality, integrity, and care to all of our clients.
We invite you to browse our portfolio of past restaurant projects and to reach out to our team with any questions. Learn more about our general contractor and commercial construction services by contacting us online, or by phone at (707) 523-1722.