An Inside Look at Restaurant Design and Construction
December 21, 2021
Design Builds, General Contractor, Restaurant Construction, Restaurant Design
Your Ultimate Guide to Restaurant Construction and Design
The world's most acclaimed restaurants all started off as just a dream. Their legacy is established by captivating and delighting guests from the moment they walk through the door. Turning this dream into a reality requires the expertise and skill of a team that understands the importance of delivering this experience. For over 40 years, Facility Development Company has been a leader in the commercial construction industry and we are proud to be one of California's most renowned restaurant design and construction firms. 
In this guide, we take an in-depth look at what to expect when working with a design-build team to bring your restaurant construction project to life.
The Restaurant Design-Build Construction Process
Your design-build team will be comprised of architects and commercial construction professionals who specialize in designing, engineering, and constructing renowned establishments. They will all work under a single contract and collaborate in-house to optimize every aspect of your project including budgeting and timelines. 
The restaurant design-build process includes four main phases:
Pre-Construction Planning
Designing
Construction
Post Construction Inspections
Pre-Construction Planning
Designing an exceptional restaurant begins during the planning stage. Pre-construction planning allows you and the construction company team to collaborate in outlining and evaluating your project to minimize possible risks and maximize its success.
This phase helps identify possible hold-ups so they can be strategically bypassed or managed accordingly without affecting the overall budget or schedule of your project. This plan will itemize specific responsibilities and requirements for each member of your team as well as all necessary materials, permits, and other criteria documents.
You will be guided through the entire pre-construction process and provided a detailed projection of how your restaurant construction team will execute everything from start to finish.  
Designing Your Restaurant
The design process is likely to begin at the same time as the planning phase to ensure you are able to secure the necessary permitting and materials for your restaurant build. Your designer will also be working closely with commercial construction engineers to ensure that all safety and regulatory requirements are maintained throughout the design.
The design phase is your opportunity to truly personalize your establishment. The designers will work alongside you to incorporate functional elements and stunning composition throughout your restaurant.
What to Expect During Your Restaurant Build
Your build team will be knowledgeable in all aspects of restaurant construction. They will be responsible for handling everything from demolition, to foundation and framing, to utility and equipment installation, and everything in between.
Your team will also maintain and provide you with detailed records of all permitting and inspections conducted during your build.
One of the many benefits of working with a commercial design-build team is the high level of communication and project transparency you receive throughout the entire construction process. You will have one main point of contact that will ensure you always remain up-to-date on the project's scheduling, budgeting, and overall progress.
Post-Construction Inspection
Once your build is complete, the property will be thoroughly cleaned up, and all post-construction materials will be removed and disposed of. You will also be given a full walkthrough of the premises to ensure your complete satisfaction.
After the final inspection is completed your restaurant is now ready for business.
Bring Your Restaurant Construction Project to Life With the Design-Build Team At FDC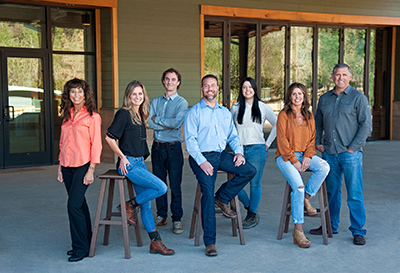 Building your own establishment from the ground up involves a lot of moving pieces. A design-build team will ensure you can smoothly navigate the ins and outs of the entire process and optimize every phase of the construction project to maximize its success. 
At Facility Development Company, we take great pride in providing the highest degree of quality, integrity, and care to all of our clients. Whether you're looking to renovate an existing restaurant or you're building from the ground up, FDC can help you along the way.
We invite you to browse our portfolio of past restaurant projects and to reach out to our team with any questions. Learn more about our general contractor and commercial construction services by contacting us online, or by phone at (707) 523-1722.