Tips to Ensure the Success of Your Facility Expansion
June 16, 2022
Facility Expansions, Value Engineering
Your Guide to Planning and Implementing a Successful Facility Expansion
While you may not be able to predict the future requirements of an active production facility, change will always be inevitable. Adaptability is a key factor in ensuring your facility can meet the needs and expectations of a constantly evolving market now and in the future.
If you are looking to adapt your space and grow your business, a facility expansion project could be exactly what you need. At FDC, we are proud to provide the highest-quality design and construction services to a wide variety of industries throughout the Western United States.
In this step-by-step guide, we look at how to plan and carry out a successful production facility expansion project.
Define Your Goals
Depending on the industry and the needs of the organization, every expansion project is inevitably going to be unique. This is why the preconstruction planning phase is such a crucial first step in any commercial construction project.
This allows our design-build team to truly understand the needs of our clients and evaluate the budget, scheduling requirements, and project goals to maximize our success while minimizing possible delays.
Here are some of the most common goals businesses want to achieve by expanding their existing facilities:
Increase Capacity
Perhaps the most obvious reason for an expansion project is that your business has simply outgrown your current space. A facility expansion is a great way to maximize your production abilities to meet the demands of your growing business.
Improve Workflow
Implementing a facility expansion can optimize your facility to maximize each stage of the production process. A growing business will likely need to adapt its production procedures at some point. Whether to increase output or simply improve the current workflow, an upgraded facility can help fulfill your requirements and boost operational efficiency.
Integrate New Equipment or Technology
Every successful business needs to stay up to date on industry regulations, requirements, and best practices. This means at some point your facility will likely be required to make room for new machinery, equipment, and technologies. If your current layout is unable to accommodate these changes, a facility expansion can solve this.
Existing Facility Audit
A facility audit is crucial to a successful expansion project. It gives you a complete view of your existing assets, equipment, and systems in their current condition and allows you and your team to determine what needs improvement.
In addition to what needs to be added to your worksite as a whole, you should also determine what needs to be upgraded, replaced, and removed. This will bring the entire scope of your project into focus to help prioritize goals, and allocate funds accordingly.
Some infrastructures you should consider during your facility audit include:
Plumbing
Electrical
HVAC
Waste processing
Machinery
Equipment
Inventory
Shipping
Receiving
Storage
This audit will help ensure the design of your new facility is in alignment with your production systems and fulfillment requirements, as well as your project budget and timeline.
Design to Optimize
Defining your goals during the earliest stages of the project is a fundamental part of optimizing the design of your facility to meet the needs of a growing business. Your team will work with you to create a design that incorporates all the functional elements your facility requires with a stunning composition that will make your establishment stand out from the rest.
Case Study: Sutter Home Winery Lodi Facility Expansion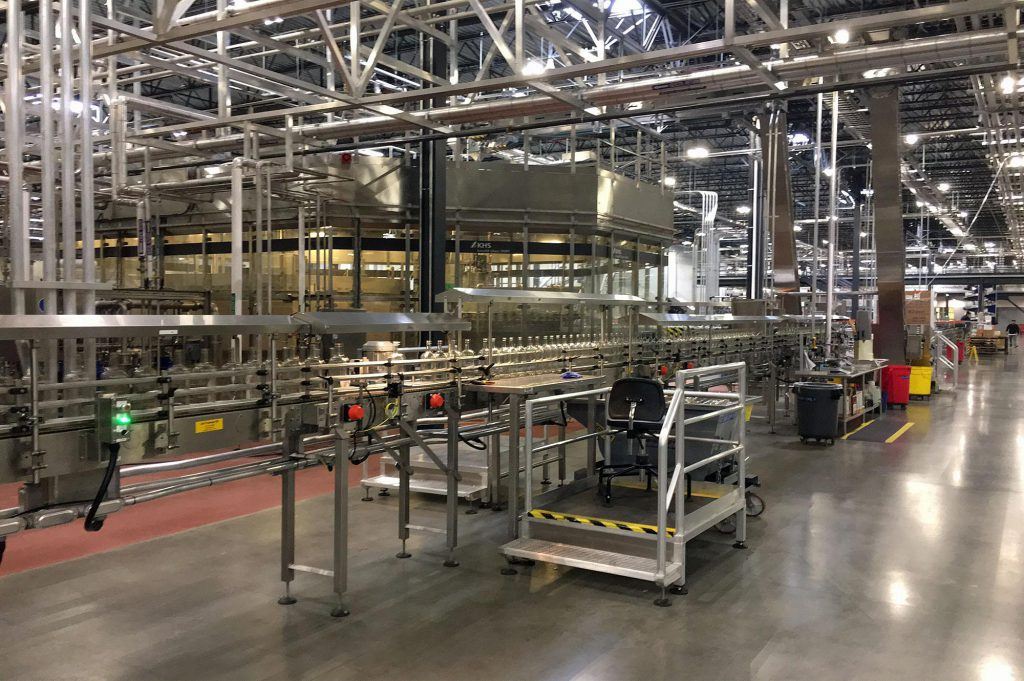 Sutter Home Winery is a high-volume facility with a total capacity of 50 million gallons of juice and an annual receiving and processing capability of 125,000 tons of fruit. In addition to this production facility, the property also houses administration offices, multiple service and equipment buildings, a 660 KW PV solar energy system, and an onsite wastewater treatment plant.
Our most recent expansion of the Sutter Home Winery included a new 750,000sf bottling and storage facility and distribution building, and 80,000sf of additional production buildings.
The production facility is capable of generating 17 million cases of wine every year, with a single bottling line processing an average of 600 bottles per minute. With a goal of increasing their production even further, the warehouse and distribution facility includes fully automated palletized storage and 20 shipping truck docks.
We Want to Help You Grow Your Business with a Successful Facility Expansion
We want to work with you every step of the way to achieve your goals of expanding your production facility. As a leader in the construction industry, the Facility Development Company team has over 40 years of hands-on experience in designing and building renowned production establishments.
Take the first step to making your dream facility a reality by contacting us today to learn more about our commercial construction services.