Choosing a Design-Build Firm for Your Facility Expansion
December 10, 2019
Design Builds, Winery Construction
From Concept to Creation We Make Your Facility Expansion a Reality
If you are planning on expanding your business soon and need a facility that will meet your new production requirements, chances are the last thing you want is another project to manage. The benefit of choosing a design-build firm, is that you are working with a team that specializes in every phase of the process, eliminating the confusion of working with multiple contracts.
When considering the expansion of your production facilities the preliminary design phase is a fundamental part of the master plan. A design-build firm will work with you to conceptualize the overall design of your new facility and see the project through to completion, ensuring it meets all your production requirements while saving time and money.
Why Choose a Design-Build Firm for Your Facility Expansion
With any large scale construction project, your needs, deadlines, and budget are likely to fluctuate. A design-build firm will have a deep understanding of the project from the beginning, and will be able to adapt to any unforeseen changes.
With a firm like Facility Development Company, everyone involved — including you — will remain on the same page throughout the project. Our expert team of architects and general contractors will be able to troubleshoot common problems, ensuring your facility expansion will be completed on time and on budget.
With FDC's Design-Build Team you can expect the following:
One contract for both design and construction phase

Pre-construction planning and design

Streamlined Processes

Exceptional communication through the project

Strong team and work ethic

Value engineering
To learn more about choosing a design-build contractor for your next project read our post "Choosing a Design Build Contractor for a Commercial Construction Project".
Featured Facility Expansion Project: Michael David Winery, Lodi, CA
Michael David Winery is a family owned and run winery that has been cultivating the landing in Lodi, CA since the 1850's. The family began growing wine grapes in the early 1900's, and today Michael David Winery produces over 700,000 cases of wine annually with nothing but production increases on the horizon.
FDC is proud to have been chosen by a leading winemaker such as Michael David Winery to undertake the expansion of their existing facility.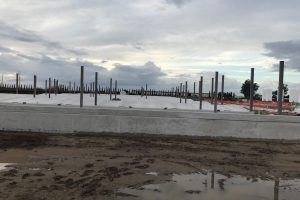 Most recently our expert build team constructed a 2 million gallon raised tank farm to house their wine for aging.
We completed the addition of a new fruit receiving facility on their Lodi property, which included two truck lanes for processing both red and white grapes, a new refrigeration plant, and additional presses.
Our past expansion projects for the Micheal David Winery also included the completion of a 10,000 square foot production office building, putting their facility at a total of 35,000 square feet of production space.
Sonoma County's Expert Design-Build Firm
If you are trying to expand your Sonoma County winery location or brewery space, Facility Development Company is the design-build company to see your vision through to reality. As a leader in the construction industry, FDC has 40 years of hands on experience in the design build process.
Facility Development Company specializes in pre-construction planning, design and development and we want to help you and your facility reach its peak production potential. We want to work with you through every step of the way to achieve your goals in expanding your production.
Contact us today to learn more about our 40 years of experience in design-build construction and how we can help make your vision and reality.