Why More Wineries Are Choosing Underground Wine Caves
November 21, 2022
Winery Construction
4 Advantages of Underground Wine Caves
Underground wine caves continue to rise in popularity amongst both winemakers and connoisseurs. These subterranean spaces provide the ideal environment for vintners to store and age wine year-round, plus wine cave tours and tasting experiences make wineries a top destination for tourists from around the world.
Humans have been burying their treasures for thousands of years. Consider the catacombs, the Holy Grail, and the pyramids. Today, the basements of libraries and museums house and preserve the most valuable tomes and treasures.
Do we instinctively feel that the goods kept below the surface are better? That it's a privilege to behold them? Is that the allure of the underground speakeasy and the salt cave spas? Is it more about the music and the salt, or the underground experience?
The mystique aside, there are several advantages for wineries to build underground wine caves. Here's an inside look at just four of the benefits that have convinced Sonoma and Napa County wineries to build wine caves on their property.
Maximizes the Utility of Your Premium Real Estate
With Wine Country real estate representing such a large capital investment, utilizing as much of your property as you can, makes good financial sense. Building a wine cave beneath your vineyard allows you to maximize your site capacity by doubling the purpose of your real estate.
Moving wine storage underground adds usable square footage to your property while reducing the operational costs required to power an above-ground storage facility. This also frees up these areas to be used for other purposes like hospitality buildings, additional vineyards, retail space, and much more.
B Cellars Winery Underground Cave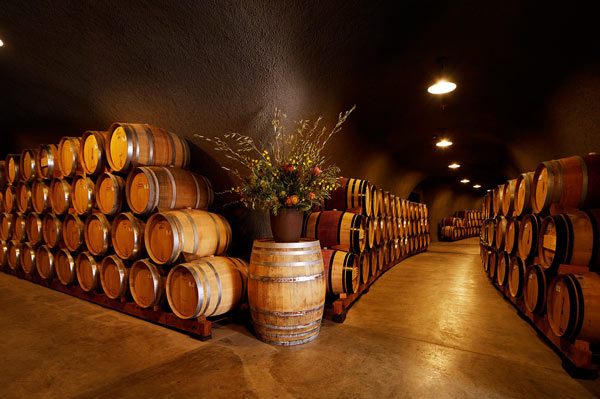 In 2013, B Cellars, a boutique winery in Oakville, California, partnered with Facility Development Company (FDC) to create a stunning and unique Napa Valley wine experience. In addition to the 13,000-square-foot wine cave, the facility has a culinary center, tasting rooms, event lawns, market gardens, a glass elevator to a custom residence, and a state-of-the-art production facility.
Lowers Your Energy Costs
Just 20-30 feet underground, temperatures remain fairly constant year-round. Underground storage provides the benefit of increased insulation against weather fluctuations, preserving the wine and reducing the amount of energy necessary to maintain the optimal temperature. This reduces operating costs, while also making the wine-making process more eco-conscious and sustainable.
Decreases Your Construction Costs
Per square foot, wine caves are becoming more cost effective to build, as the prices of traditional, above-ground building materials continue to skyrocket. With the added benefit of natural insulation in subterranean environments, the cost of insulation alone greatly decreases your construction costs.
Creates the Ultimate Guest Experience
When visitors to Sonoma County plan their Wine Country itinerary, visiting a wine cave is likely on their list. Wine cave tours, where visitors can see the aging process up close and enjoy an elegant tasting below ground, can make your establishment a wine country destination. In addition, introducing wine cave events can garner repeat local customers. Repeat local customers with friends, near and far.
The Winery Design and Construction Specialists at FDC Are Here to Help
At Facility Development Company, we understand the importance of providing an unforgettable experience to all your winery guests. Working with a local construction company with experience designing and building wineries, production facilities, and wine caves, makes navigating the ins and outs of permitting and building requirements a breeze. Our design team can work with you to create the perfect underground cave for storing and aging wine, which also doubles as a beautiful and comfortable space for your visitors to enjoy.
For over 40 years, FDC has partnered with winery owners to construct more than 100 wineries, spanning several western states. Our winery projects range from small boutique facilities to the construction of a 160-acre state-of-the-art processing plant, which produces up to 50 million gallons of fruit annually.
If you would like any additional information on our winery construction services, contact us online or call 707-523-1722 today.