How-To Ensure Successful Wine Tank Farm Construction & Expansions
November 25, 2019
Winery Construction
Choose a Design-Build Firm to Construct Your Wine Tank Farm
FDC has over 40 years experience, and more than 100 winery construction projects in our portfolio. We are proud of our deep roots in the wine industry and of our reputation of excellence among winemakers. Read below for tips on how to ensure your wine tank farm construction or expansion goes off without a hitch.
Our aim at FDC as general contractors is to help wineries establish and expand their production abilities and output value, while keeping costs as low as possible.
Planning
A wine tank farm is a large expanse of stainless steel or wooden tanks that house wine while it is fermenting or aging. These can be indoors or outdoors, but the layout of your tank farm is essential to the planning process.
There are a number of things to consider and plan before beginning wine tank farm construction. Expertise and years of experience working with industry leaders is what we offer in order to continually exceed expectations while producing projects within your timeline and budget. FDC works with you to help determine what tank farm design is best for your business specifications while also reducing your costs.
"Working with Steve Kilgannon and his team at FDC was a clear choice. The experience, dedication and value FDC provides were what we demanded to ensure we came in on time and on budget. From planning and design all the way through permits and into construction, Steve's team made sure all areas were taken care of. They constructed our complete facility in record time shaving over a month off an original 5 month schedule to make sure we made crush."

–Kirk P. Venge, Owner Venger Vineyards
Expansion
Our team of general contractors at FDC are leaders in the field of winery and tank farm construction and the success of our clients is our top priority. When we begin a project we are always working with the anticipation of future expansion possibilities in mind.
Expanding on an existing winery facility is an exceptional undertaking that requires expertise and planning, which you will always receive from our team at FDC. We are known in the wine industry for completing our projects on time with a high degree of design integrity that sets the standard for quality.
Case Study: Trinchero Family Estates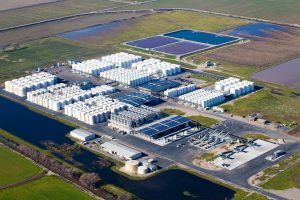 For over 15 years Facility Development Company has been working alongside Trinchero Family Estates (Sutter Home Winery) to develop and expand their wine production abilities. Based out of Lodi, Ca FDC aided in finding a 297 acre site for their operation, specifically with the expectation to expand in mind.
Their high volume facility receives 125,000 tons of fruit annually, has a capacity to hold 50 million gallons of juice and currently houses tanks ranging from 2,500 gallons to 360,000 gallons.
The TFW tank farm also houses a new wastewater treatment plant, a 660 KW PV system, new administration offices, and a variety of equipment and services buildings.
Our latest expansion project with them included the addition of 80,000 square feet of production support buildings and a 750,000 square foot bottle and automated palletized storage warehouse and distribution building.
Sonoma County's Experienced Wine Tank Farm General Contractors
Beginning a construction project with an appropriate budget, an accurate schedule, and a clearly defined scope of design is critical to the success of your tank farm construction project. Once we clearly understand your goals, we work with you to make the best decisions throughout the entire build process and ensure we stay within budget and timeline. To learn more about our FDC team and our valuable expertise in winery construction, call or contact us online today.